Our gift shop is unique. In our shop, all of the items are
FREE
. Supporters of the Lower Hudson Valley Challenger Center have provided these free models for your pleasure. We hope that you enjoy them. We also hope that you can help us out by making a contribution to the center. The Lower Hudson Valley Challenger Center is a non-profit organization that provides space-science education to area schools and the public. For more information about Challenger Center, please visit the "About Us" section of our main website at
www.lhvcc.com
We have a wide variety of paper models including planes, shuttles, Saturn V rockets, and a host of other wonderful models for you to build. Plus shipping and handling is included!!!
Many of the displays in our Center are made from an almost forgotten craft of
paper modeling
. This craft saw some popularity in the 1940s when the usual toy and model making materials of plastic and metal were not available due to the war effort. After the war, the craft lay mostly dormant until the 21st Century when, with the Internet, the craft is seeing a rapid increase in popularity. Many models can now be downloaded to a computer, printed, and assembled.
You can make models for your home that are just like the models here at the Center. Simply download the images or print documents (PDFs) by right-clicking (mouse-click for Macintosh users) on the images below and saving the documents to your computer. Then open the files and print them. It's that simple. Oh, but then you have to put them together. That's the fun part!!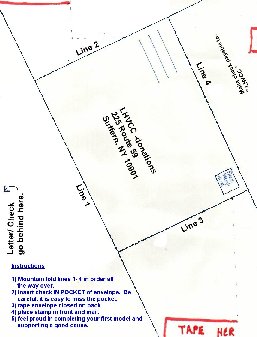 For your first model, we suggest you try our very own,
Donation Paper Envelope
. While this our simplest model, we believe it to be the most rewarding. It has a difficulty rating of 1/10, and requires no cutting or glue, just a piece of tape.
As we are a non-profit organization, we are in constant need of funding. We would ask you to please consider all of the items here in the gift shop as
DONATIONWARE
, meaning you are requested to make a donation as payment for any and all of the items you download from the gift shop. Please make checks payable to The Lower Hudson Valley Challenger Center and mail to:
The Lower Hudson Valley Challenger Center
225 Route 59
Suffern, NY 10901
For your convenience, a donation can also be made through PayPal. Your contribution is tax deductible.